---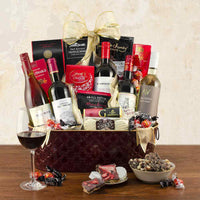 A taste experience featuring wines from around the world
Chȃteau Du Prieuré red wine
Castillo de Monséran Garnacha red wine
Alverdi Pinot Grigio white wine
Domaine Bousquet Malbec red wine
Flat Rock Chardonnay white wine
Godiva dark chocolate raspberry bar
Chocolat Classique Belgian chocolate truffles
Lindt Lindor milk chocolate truffles
Dilettante Ephemere double dark chocolate trufflecremes
Made Chocolates maple chocolate bar
Litaly double chocolate biscotti
Long Grove creamy white sandwich cookies,
Marich dark chocolate peanut butter pretzels
Funky Chunky dark chocolate mocha popcorn
Small Batch Organics strawberry granola bark
Two-handled embossed oval red basket
#276

You must be 21 years of age or older to purchase or receive a wine basket from us. Due to state restrictions, we cannot ship wine to IN, KY, MS, ND, TN or UT. This basket must be signed for by an adult over 21. If you are sending a basket requiring an adult signature and are not sure if anybody will be home to sign for it, we strongly suggest you ship the basket to a work address, or to an address where somebody over 21 will be there to sign for it.