---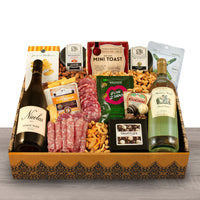 Features a bottle of red, a bottle of white, charcuterie assortment, truffles and nuts packaged  in a gift box!
Maison Nicols Pinot Noir red wine
Maison Nicolas Pinot Grigio white wine
Asiago cheese
Cheddar cheese
Cucina & Amore artichoke bruschetta
Del Duca sliced sopresatta
Italione organic red pepper stuffed green olives
Cucina & Amore sun-dried tomatoes bruschetta
Citterio Genoa salame slices
La Panzanella roasted garlic croccantini
Poshi marinated asparagus with rosemary and oregano
J&M Gouda cheese straws
Artisan truffles in a gift box
Savory snack mix
Roasted almonds
Roasted cashews
Large decorative gift box
SKU 435

You must be 21 years of age or older to purchase or receive a wine basket from us. Due to state restrictions, we cannot ship wine to IN, KY, MS, ND, TN or UT. This basket must be signed for by an adult over 21. If you are sending a basket requiring an adult signature and are not sure if anybody will be home to sign for it, we strongly suggest you ship the basket to a work address, or to an address where somebody over 21 will be there to sign for it.