---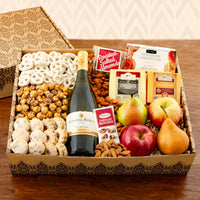 A fine assortment featuring white wine, fresh fruit, cheese, crackers and gourmet treats presented in a beautiful gift box!
Coastal Ridge Chardonnay white wine
Four pieces of farm fresh fruit
Cheddar and Salami cheese 
Green onion cheese
Cherrington water crackers
Dolcetto chocolate wafer bites
David's Cookies linzer tarts 
David's Cookies pecan delights
Pretzel Pete cinnamon brown sugar pretzel pieces
Caramel popcorn
Roasted almonds
Large decorative gift box
SKU411

You must be 21 years of age or older to purchase or receive a wine basket from us. Due to state restrictions, we cannot ship wine to IN, KY, MS, ND, TN or UT. This basket must be signed for by an adult over 21. If you are sending a basket requiring an adult signature and are not sure if anybody will be home to sign for it, we strongly suggest you ship the basket to a work address, or to an address where somebody over 21 will be there to sign for it.