---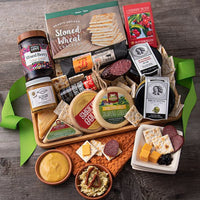 This artisan meat and cheese platter features a carefully selected assortment of gourmet meats, artisan cheeses, crackers, and antipasto items. From smoked spicy pepperoni to summer sausage, to creamy cheese spreads,kalamata olives, and gourmet jam, this is the perfect gift to send for any occasion! This gift, which arrives nestled in a wooden cutting board, is an excellent hostess gift, or the perfect starter for your next dinner party.
Includes:
Summer Sausage by Hanover Smokehouse - 5 oz. - Expertly smoked, this delicious summer sausage is handcrafted using only the best spices and seasonings.
Smoked Pepperoni by Vermont Smoke & Cure - 6 oz. - Spicy pepperoni stick filled with spices to compliment an assortment of cheeses and crackers.
Monterey Jack Jalapeño Cheese by Mountain View Cheese Co. - 4 oz. - Creamy Monterey Jack cheese kicked up with pieces of zesty jalapeño peppers.
Savory Garlic Cheddar Cheese by Mountain View Cheese Co. - 2 oz. - The perfect cheese for any cracked as mild cheddar meets zesty roasted garlic.
Ultra Sharp Cheddar Cheese by Mountain View Cheese Co. - 4 oz. - Cheddar cheese like you remember - and a total crowd pleaser.
Mixed Berry Preserves by Kitchen & Love - 12.3 oz. - Sweet jam with the distinct mixed berry flavors, perfect to top crackers or enjoy on some toast.
Stoned Wheat Crackers by Eleanor & Flynn - 4 oz. - Perfectly square crispy crackers with a defined stone-ground wheat flavor.
Sun Dried Tomatoes by Cucina & Amore - 7.9 oz. - Julienned slices of sweet sun-ripened tomatoes in olive oil.
Kalamata Olives by Ariston Specialties - 12.67 oz. - Large and smooth kalamata olives bathing in a savory brine.
Spicy Cheddar & Veggie Cheese by Mountain View Cheese Co. - 2 oz. - Spicy, smoky chipotle peppers and pieces of garden fresh veggies are mixed in with sharp cheddar cheese.
Artichoke Bruschetta by Cucina & Amore - This delicious spread consists of finely-chopped artichoke hearts and is the perfect topping to any cracker.
Cherry Buds by Butterfields - 1.75 oz. - Tasty hard candies that are busting with the flavor of homemade cherry pie filling.