---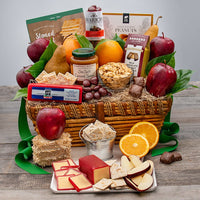 With something for everyone, it's no surprise that this delightful gift is one of our most popular! Inside one of our signature baskets, we've artfully arranged juicy oranges, crisp apples, and sweet pears, along with an assortment of delicious gourmet foods. Complete with Vermont cheddar cheese, premium Virginia peanuts, and a salted caramel dip, this classic arrangement is perfect for any occasion.
Includes:
Sea Salt Caramel Sauce by Stonewall Kitchen - 12.25 oz. - An excellent dip for fresh cut fruit, with the smooth rich taste of sweet caramel with a touch of gourmet sea salt.
Stoned Wheat Crackers by Eleanor + Flynn - 4 oz. - Square crackers with a hearty texture that are made from whole grain wheat.
Chocolate Covered Cherries by Marich - 2.3 oz. - Sweet all natural cherries get even sweeter when dipped into milk chocolate.
Roasted & Salted Peanuts by J&R Gourmet - 2 oz. - Classic peanuts that are evenly sprinkled with salt and gently hand-roasted.
Milk Chocolate Sea Salt Caramels by Morley Sanders - 1 oz. - Gooey caramel is enrobed in delicious milk chocolate, then delicately sprinkled with sea salt.
Fresh Orchard Fruits - These juicy pears, oranges and crisp apples are hand-picked from premium orchards.
Classic Vermont Sharp Cheddar Cheese by Cabot - 8 oz. - A robust Vermont cheddar cheese that's carefully aged to achieve a distinctive award-winning flavor.
Assorted Citrus Slices by Primrose Candy - 5 candies - Individually-wrapped hard candies that delight with vibrant fruit flavor.