---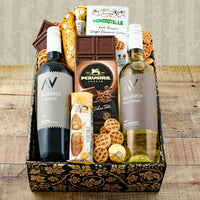 Two Alverdi Italian wines featuring a red and a white paired with an assortment of gourmet treats.
Alverdi Cabernet red wine
Alverdi Pinot Grigio white wine
Ferrero Rocher fine hazelnut chocolates
Perugina dark chocolate espresso bar
Matilde Vicenzi delizia cream filled puff pastry
Miniritelle ginger flavored cookies
Litaly almond biscotti
Decorative gift box
SKU 263

You must be 21 years of age or older to purchase or receive a wine basket from us. Due to state restrictions, we cannot ship wine to IN, KY, MS, ND, TN or UT. This basket must be signed for by an adult over 21. If you are sending a basket requiring an adult signature and are not sure if anybody will be home to sign for it, we strongly suggest you ship the basket to a work address, or to an address where somebody over 21 will be there to sign for it.